Oshkosh
On The Wing; Air Venture 2005
The greatest gathering of General Aviation Aircraft in the World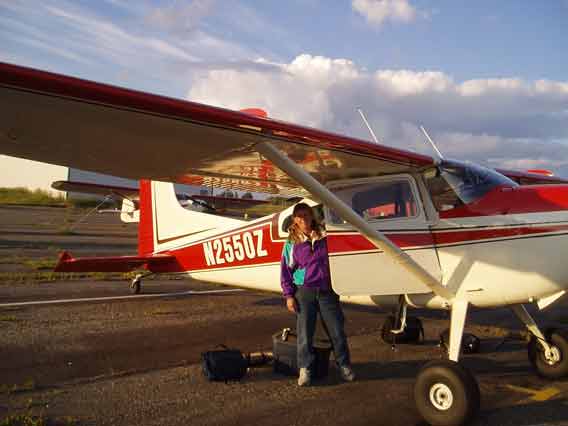 BCV Loaded for Oshkosh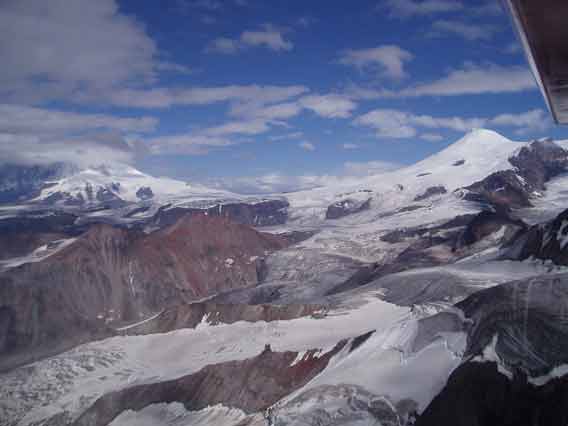 Mt Wrangle enroute ORT
About Us - Iditarod -Iditarod Airforce - Atlas Air - Skywagon - On The Wing - Feedback - Josh&John
July 2005:
After 3 months of striping, modifying, painting and assembling were on schedule for our planed trip to Air Venture 2005. The largest gathering of general aviation aircraft in the world. Diana and I were pushed to get there, leaving BCV on Wednesday and we wanted to be in Oshkosh by Saturday, we had 4 days.
Pushed for time to get flying South but not in preparation, we took time in gearing up. We carried our normal summer survival gear, in case of an emergency. Sleeping bags, North face tent, camping gear, stove, first aid kit, flares, rain gear and extra clothes, plus a full set of tools. For this trip we added bikes for getting around, tarps for wing awning and folding chairs, they really came in handy. Cooler with enough food for more days then we would be on the road. About the biggest bag contained a full set of VFR charts, AIM, Canadian Supplement and IFR Jepps for Canada and the US. I've learned the hard way, to carry all the charts I might need. We were heavy though. Loaded to every bit of 3200 lb gross weight, plus We were tail heavy and we would pay for it.
We were headed to McCall Idaho for an overnight with my brother Pat and his wife Kim. The direct route there would favor the coast but the weather wouldn't corporate. I have flown small aircraft between Alaska and the Lower 48 States since 1971 and have only been able to fly the coast twice.
Departed BCV (Birchwood) 6am Wednesday. High clouds and calm. Perfect weather. Diana flew the first leg taking a direct track to ORT (Northway). There were low clouds towards the border and with no VFR on top in Canada we needed to stay below the clouds. ORT got us to a point picking up the Alcan (Alaska Canadian Highway) and flying low we crossed into Canada approaching Beaver Creek.
A quick stop at Burwash turned out to be a mistake. We were not suppose to land till Whitehorse, our airport of entry to Canada but after a thermos of coffee the need was to great. For all my years flying through Canada, Burwash was a deserted dirt strip, No one would know if we took a 3 minute stop, we'd even leave the engine running. Made an announcement on the enroute frequency (126.7 through out Canada), we were out of range for Whitehorse so I figured we would just slip in and out, no one would know. Landed pulled off to the side of the runway and took care of business. Diana headed back on to the runway with plenty of room for our stop-n-go but it was taking too much power, I could immediately feel it, the tail wheel had gone flat. It only took about 5 seconds to decide, no parts no services, were out of here, we couldn't stay in Burwash, hell we weren't even suppose to be here, full power and away we went, flat tire be dammed.
Well just about the point we lifted off I notice a nice new building on the ramp with several cars parked. Nav Canada Air Radio had watched our whole stop-n-go! Crap I thought, what a way to start a vacation. I quickly got out the supplement, dialed the right frequency and apologized. Cover story, our oil door came open and we had broadcasted our intention on the enroute frequency, didn't know there was a Air Radio here. They could here but not transmit on the enroute frequency so they knew what we were doing. Radio operator figured we didn't know they had a new Air Radio operation and said cleared enroute frequency, have a good flight. Too easy, well it isn't over yet.
Shortly after leaving Burwash were back in contact with Whitehorse, first question from him, were you the aircraft landed in Burwash. Yes it was us, cover story helped but he still wanted to extract his pound of flesh. I've been tongue lashed by the best of controllers, best to just let them get it out of their system. Every frequency we switched to, it was, were you the aircraft landed in Burwash? At least everyone knew we were coming. I had more to worry about, like landing with a flat tire.
Landing with a flat tail wheel isn't difficult, it's the taxing, takes a lot of power and mostly differential braking to steer. The biggest problem is you don't have to taxi very far to destroy the tire and the tube is usually bad from going flat. I only had a spare tube, now, could I keep from destroying the tire. Whitehorse has a crosswind runway close to parking with a dirt taxiway just before the pavement. I told the tower my problem and I was landing on the taxiway at my own risk, it was approved. Worked great, landed, then with forward trim and lots power to keep the tail up and brakes to keep the speed down I wheeled into parking. Quite noisy carrying the power I need all the way to parking but I saved the tire.
Called CanPass and cleared customs. Expected another lashing but they never found out about Burwash. Didn't take but an hour with a borrowed jack to stuff the spare tube. fuel and flight plan filed we wanted to get Whitehorse behind us. Only problem weather ahead was ugly. By the time we arrived Whitehorse it was 2000 3 to 5 miles and rain. Not to difficult but no aircraft were getting by Laird Rived, so up we went. I flew the next leg IFR to Watson Lake, refuel then Ft Nelson to Ft St. John, where we spent the night. MEA's are high, over 10,000 however the new Canadian GPS RNAV routes use the MOCA which is a comfortable 7500 and it was just below the freezing level and smooth. I flew and Diana navigated. It was an easy crew effort, 2 hours to Watson Lake and 2.5 to Ft St John. We do it the old fashion way, by hand, we don't have an auto pilot.
I hope the rest of the trip is less stressful. We flew 9 hours the first day, half of it IFR. Fixed a flat tire and all before the sun went down. Of course that's not hard to do in the Land of The Midnight Sun in July. Burwash is just a ridge over from Lake Labarge, the setting for Robert Services The Cremation of Sam McGee. "There are strange things done under the midnight sun by the men who moil for gold..."
Day 2 Thursday. Ft. St. John, 200 overcast rain and fog. IFR again. Since we were going to McCall we headed to Prince George, refueled then on the Spokane for US customs, more fuel and on the McCall. Approaching Prince George we finely got clear of the weather and canceled our IFR. Paying for our fuel in Prince George we meant a group pilots who were quick to inform us the weather was bad going north, they had been waiting 2 days. Since we just flew in they were remarking it was nice to have some new company while waiting for the weather to clear. When we told them we would not be staying, we just came from the north, their jaws dropped. We were IFR I said. They still couldn't believe we would fly IFR across mountains.
I must admit crossing mountains IFR or at night before GPS was a bit nerve racking but with a moving map GPS I'm a lot more comfortable. If you had to go down you could navigate to a valley and hopefully a safe landing.
We still had some low stuff to contend with flying Okanogan River. Another fuel stop at Penticton BC and flight plan for crossing in to the US. Crossing the Canadian border entering Washington we were meant by sunshine. It's always nice being back in the US. Spokane customs folks were great. I've learned to not relay on requesting customs notification through the flight plan remarks, it doesn't happen and when you arrive and customs isn't expecting you there not very friendly. I always call the customs location by cell phone and arrange my arrival. My cell plugs into the headset so I can even call and update my ETA enroute.
Diana and I have been switching seats every leg, sharing the joy of this flying vacation. Last leg today was hers, from Spokane to McCall. With the weather behind us it was just scattered build-ups and light turbulence, a beautiful afternoon flight over the mountains of Eastern Washington and Idaho. Mid afternoon we arrived McCall. Had a good evening catching up with Pat and Kim while reducing there stock of Idaho wines. We firmed up plans for our return from Oshkosh. On our way back to Alaska we planned three days following Pat around the Idaho back and mountain strips, can't wait.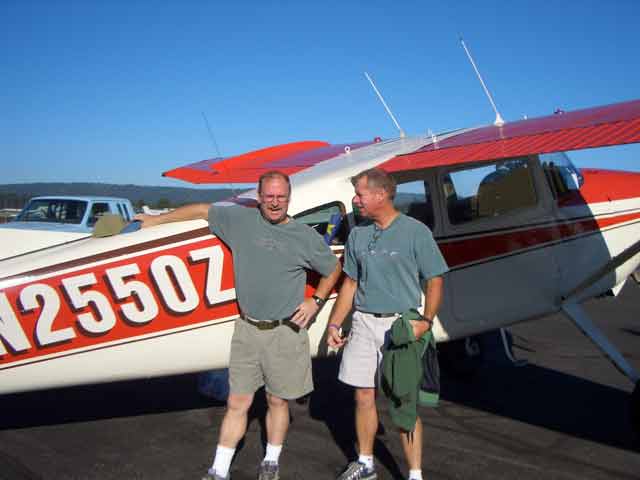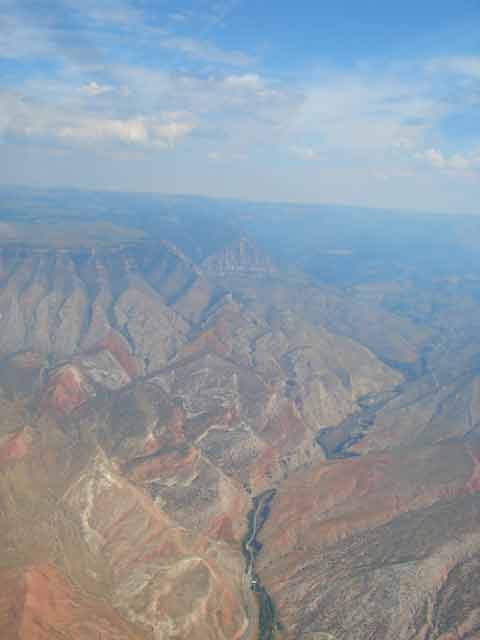 Pat seeing us off to Oshkosh Continental Divide
Day 3 Friday. 10am were airborne. On schedule and with only 11 or so hours flying ahead of us to Oshkosh, It's an easy trip with an overnight, some where. We don't tend to plan our stops. When we need fuel or our bladder needs it, we find an interesting airport or strip and drop in. After consulting the AIM and NOTAMS of course. Food is not an issue, we brought plenty. During our fuel stops we tend to set up our chairs at the stabilizer for a picnic table. For a sandwich or snack enroute we keep the cooler within reach.
Beautiful flight east over Idaho, Montana and Wyoming. Sky's are clear, light winds and only a few build-ups to avoid, it was a feast for the eyes. East out of the Rockies and fuel stop and picnic at someplace South Dakota. It's getting hot, well into the 90s. We keep the windows open till we climb into cooler air above 8,000 feet. Are Alaska bones are not use to this heat, were going to melt at Oshkosh! Our day ends in someplace Minnesota. 2 blocks to town and the local motel. 3 hours from Oshkosh, life is good.
Day 4 Saturday. Last day flying for a while and last bed. Were camping for the next week. Before we takeoff Diana and I spent a good hour briefing for our arrival into Oshkosh. It will be a nail bitter the last hour. It's a very delicate dance with 100 other aircraft all jockeying for a position in the landing queue. The organizers have evolved an arrival aimed at maximum aircraft landed with aircraft carrier efficiency. It all starts with looking out for the other guy while listening to instructions. It begins over a small town just south of Oshkosh, I'm sure their residences hate small aircraft, they listen to 1000's a day for a whole week every July, I would. From over town find someone to follow, your altitude is based on your aircraft speed, slower is lower. Head north along the railroad and listen for instructions, we got it, red 180 follow the white bonanza, were orange but communication is one way and I'm just following instructions, right downwind 27. Flip to tower frequency, listen for landing call, red 180 cleared to land Blue, that's the color line on the runway I'm shooting for. Land, vintage camping parking sign displayed and follow the marshal.
Life is still good, we made it to Oshkosh. Bam, just as we clear the runway there goes the tail wheel tire again and were looking at a mile taxi. The tube was new so I know the tire is trash. I elect to taxi to the camping area, staying in the grass so I won't destroy the rim. We limp the mile with a few thousand other pilots watching! how embarrassing! Needing a new tire this is the place, with every aviation supply company and tire vendor here selling their wears. We park, I check the rim, it looks ok. I've got 4 days to fix it, it's time to relax and we set up camp and do just that.
After meeting our neighbors it was bikes out and take a cruise around. With a lot of ground to cover on our first trip to the EAA flyin we weren't wasting any in camp. Should have known with the looks we got and the lack of other bikes. I just figured we were smarter than everyone else, until security pulled us over, seems bikes are not allowed during Oshkosh. O well, transportation is good, there are busses to hop on for the various venues. Instead of bike saddle bags we fill our back packs.
Camping was the perfect choice for us. Time loss renting a car and fighting traffic to and from a hotel would have taken a lot time and fun out of our Oshkosh experience. We had plenty of food but we just kept it on ice. The food vendors were good and open from dawn till midnight, why waste time, too much to see and do.
Day 5 Sunday. Diana and I are up early. Morning is the time to explore, afternoon your in your chair watching skyward. There is one demonstration, fly by, performance or important aircraft arriving after another. Plus this is an unbelievable aviation gathering with thousands of aircraft flying in and thousands more people driving. Hundreds of acres with hundreds of booths with every aircraft, engine, accessory, component or avionics manufacture or supplies from around the world is here. Diana and I spent 3 days and we figured we saw about 3/4.
We spent the first half of the day getting a lay of the exhibits and a feel of where everything fit in. By noon we were on the grass watching the sky. The arrivals were a continues influx of aircraft. Normally there are two runways in use but during the air show one was in use while simultaneously the show was on in airspace over the main runway. The action was non-stop from noon till 5pm. Opening ceremonies with skydive team and the US Flag, Aerobatics teams and solo performances, wing walkers, flybys and watching the antics of arriving aircraft, before we knew it was 5pm. Sure glad we didn't have to look forward to traffic and a drive to a hotel. Instead a short walk to one of many temporary restaurants and a evening stroll to our C-185 camp site and the end to a perfect day.
Day 5 Monday. Today is the official opening of Air Venture 2005. It's humid and in the high 70's and expected to hit the high 80's. Were going to melt being from Alaska but will not have to suffer the high 90 temps they often get at Oshkosh. Small favors, will take it.
After breakfast it's off to the EAA museum, a permanent fixture here. Great displays of early aviation and amateur aircraft building. The museum highlight was a talk by a writer who had the great fortune of visiting Alaska during Iditarod 2000. We were very fortunate to see his slides and hear his tails about the Iditarod Airforce and flying with these amazing pilots! He had a picture up of a famous Iditarod Airforce pilot he'd interviewed but couldn't remember his name, we helped him out, it was Don Bowers!
Noon were on the grass for opening ceremonies with the skydive team. Then the first of many milestones, Steve Fosset arrived with Voyager II. The turbojet powered Scale Composite flying fuel tank Steve flew around the world. This was the only public viewing. After the air show Steve flew it to DC, were it resides in the Smithsonian. The day was again filled with non-stop action, in the air and on the ground.
Today however was cut short, by 4pm there was a thunderstorm bearing down. As winds picked up the show ended early and we retreated to the 185 camp. Expecting a few hour break then go for dinner, we tented a tarp over the wings and sat back to enjoyed the afternoon storm, thunder and lightning.
Murphy's Law had other plans. We took a direct hit. Our apprehension grew to aw-shit as we watched this major storm tare directly into a sea of 2000 aircraft, winds gusting to 50mph and cloud to ground lightening stabbing the ground searching for a target. There wasn't a dam thing we could do but keep our heads down, tend to our tie downs, tent and tarp as the wind blew and ripped lines loose. By 10am the winds had abated but the rain hammered us till 2am. We had a good camping spot and good gear and remained dry through the night.
Daybreak with clear sky's was like surfacing from a bad dream, except evidence of the nights carnage was everywhere. Tents and tarps around us were shredded, all low lying areas were lakes, some folks had a foot of water in their tent. We faired about the best. Luck gave us a high spot and our North Face tent held up to the wind and kept the rain out. I had expected major aircraft loss and damage but there was only minor damage and no one was hurt. Amazing, a major thunderstorm hammers 2000 aircraft without claiming one!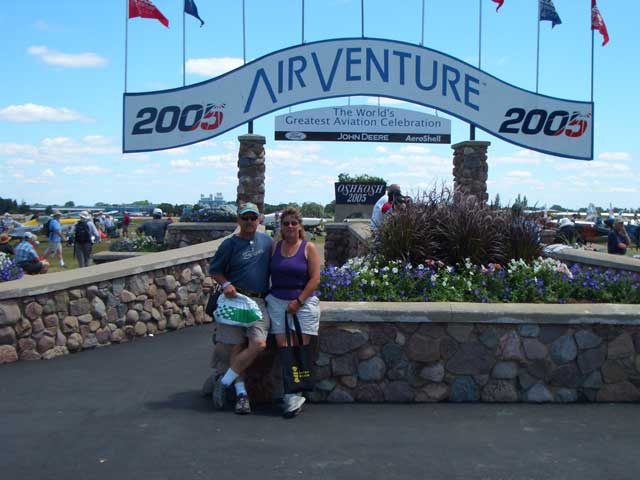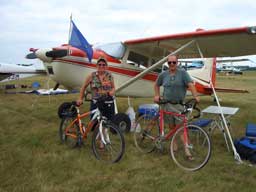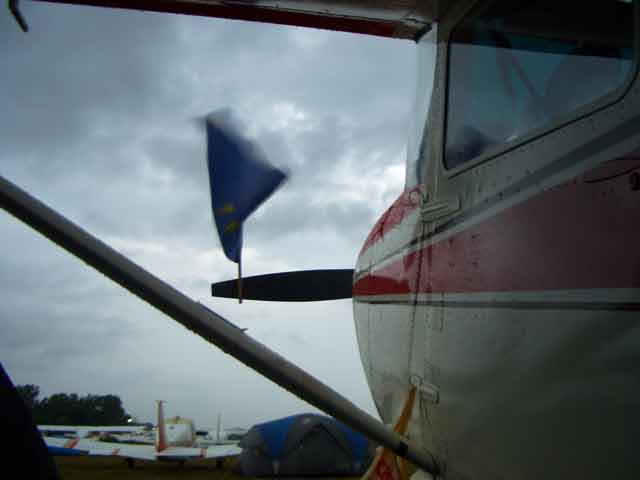 EAA Oshkosh The Camp Ready to Ride, to no where! The Storm
Day 6 Tuesday. Slow getting started. There's storm clean up and getting around is muddy a wet, a real pain. Mid morning were off and on a dual mission, take in all the parts vendors, Spruce & Specialty, Chief, Garmin, ECI and buy a new tube and tire for our still flat tail wheel. Spruce fixed us up in 2 minutes.
I need to spend a week here! Spread over miles of farm fields shopping Oshkosh is like browsing Trade-a-Plane in real time. Walk next door, it's like turning the page and everything is right there in front of you. You don't have to wait for next day shipping 4 days latter in Alaska. Throw your credit card down and take it with you. Were going to be heavy flying home!
Tuesday's noon opening show starts without us. There is just too much we haven't seen yet. We spend most of the afternoon enjoying new aircraft, Cirrus, Murphy Moose, AirVan. The new Micro Jets are unbelievable, 4 and 6 passengers with mini turbojet engines. I was impressed with their vision in design, almost futuristic. All composite with FADAC control and EFIS flight and engine instruments. A day at Oshkosh and you know the future of General Aviation will be exciting.
Diana and I did not miss being on the grass for the arrival of another Burt Rutan success. White Night and Spaceship one did several low passes then landed. First commercial venture into space. It is a strange looking hybrid, hard to describe, not at all a conventional aircraft design but another success just the same.
We retired early to our camp, need to fix a tail wheel. We weren't the only pilots enjoying the air show away from the crowds and noise sitting around their own camp. A lifting little help, a 5 gal bucket with block and a short walk for air and we were ready to roll out of here tomorrow afternoon.
Oshkosh roots are founded in the Experimental Aircraft Association's yearly get together. All week there are seminars, workshops, demonstrations and guest speakers. Diana and I attended an evening talk with Burt Rutan and Steve Fosset about Voyager and Steve's around the world flight. Absolutely amazing listening to their ideas and designs failing and succeeding, in their quest to build and fly Voyager II.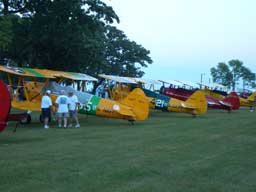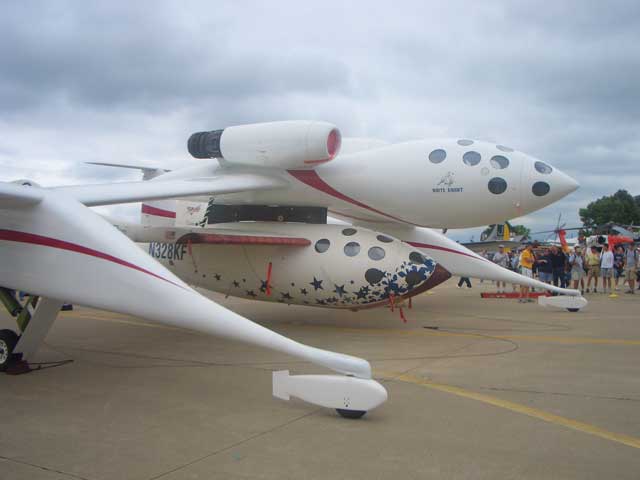 Stearman Line Voyager II Spaceship 1 hanging on White Night
Day 7 Wednesday. Hard to believe we have been gone a week. Fighting Canada and weather is hardly a memory. This is our last day at Oshkosh. Were planning a 3 day trip flying Idaho back country strips with Pat Friday morning. We need to be in McCall Thursday.
The morning is spent ranging through the exhibits we missed. Couldn't see them all in 3 days and watch the daily air show, figured we missed 1/3. Next time were stay the whole week! We watched the show while breaking camp and loading up. As the air show was winding down we started up and joined the queue for a 30 minute taxi then we were off headed West chasing the sun, it would win.
Darkness caught us 2 hours out and we enjoyed the night sky and the passing lights of the towns and farms across Wisconsin and Minnesota . We wanted to get 3 hours closer to Idaho for an easy day tomorrow. We ended in Montevideo. Found an empty ramp and a free FOB airport car the Minneapolis pilots use for there $100 hamburger. Two mile drive, a local motel and a well earned shower and our own burger. The end of a perfect day.
Day 8 Thursday. Warm humid days have left us a low morning fog. By 10am it's lifting and we slide out under it, keeping a close watch for cell towers. 20 years ago cruising across farm land you only had to watch for an occasional radio tower, usually marked on the map or water towers and they were big and easy to see. These dam cell towers are high and very head to see. Our GPS obstruction info was helpful and kept us clear.
Getting into the Dakotas it was less populated, we cruised low enjoying the wide open spaces, till the Rockies. By mid day the buildup had pushed us up into thin air. We made good time arriving in McCall by 5pm.
The end of the first Oshkosh experience for Diana and I but not the end of our trip.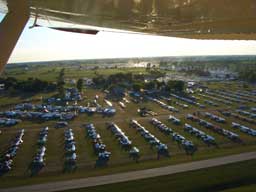 Departing Oshkosh
On The Wing; Idaho, North and Home