Moose Stew
Crock Pot
<![if !vml]>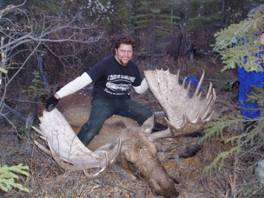 <![endif]>
Kory with his first moose 64"
1. Moose or Caribou Meat (cubed) beef if you must.
2. Potatoes.
3. Broiler Onions (small onions 1-2 inches).
4. Carrots and other veggies of choice.
5. 1 Green Pepper
6. Flour.
7. Salt/pepper.
8. wostshire sauce.
9. Lemon juice.
10. Allspice.
Dust meat with a mixture of flour, salt & pepper. Sear a little of the meat at a time, Use high heat in Veg shortening.
Return all the meat to the pan on high heat, add more flour, stir. Add ¼ cup of lemon juice and Wostshire sauce, stir constantly so as not to burn. Add 3 times the quantity of water and add some Allspice.
Convert to a Crook Pot and cook on high for several hours or until meat is tender.
Add whole pealed onions and 30 min later the remaining veggies, you may need to add more water, cook till just tender.
Best served on a cold winter day with homemade baking powder biscuits.
For Baking Powder Biscuits I use Betty Crocker recipe, not a package and I add 1 cup of Parmesan cheese, there great.
The leftovers and almost better.
Enjoy