Grilled Salmon
<![if !vml]>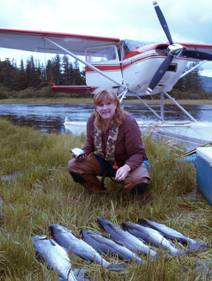 <![endif]>
Malia Runk with our PWS Coho haul
Salmon fillet skin on or whole salmon
Mix 1 packet of Good Seasons Italian Salad dressing, per directions. This is a small packet of spices you mix with vinegar, water and oil to make a dressing. I use this as my marinate base. I sometimes add a table spoon of Malt vinegar and replace about 1/3 of the salad oil with olive oil but mix it to your taste.
Liberally coat filet or whole fish inside and out.† Sprinkle filet or the whole fish inside and out with fresh or dried dill. Top the filet with several slices of lemon, Whole fish fill with slices of lemon. Cover for 1 hour before cooking.
Cooking: Cook the fish as desired, grilled, baked or broiled till the fish just looses itís translucent and is just beginning to pull apart using 2 forks.
Our favorite is grilled. I place the filet skin down directly on a medium hot BBQ, letting the marinate drip and smoke, close the lid and it enhances the flavor. The skin burns and sticks to the grill, I then lift the fish off the skin and set on serving plate.
For a whole fish I wrap in Foil and either BBQ or bake at 350íf.
Baking or broiling filet works fine but BBQ is best. Iíve used this recipe for Halibut, Cod, Snapper and even Ahi Tuna.
Enjoy